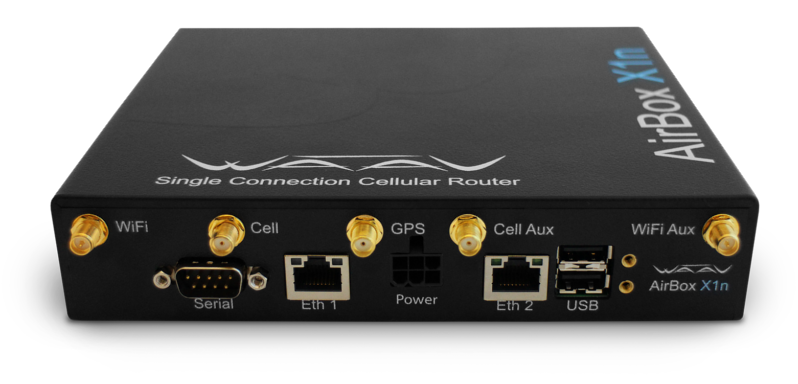 Standard features:

  -  One LTE cellular WAN with fallback to 3G
  -  802.11n WiFi with up to 4 SSIDs
  -  Two Ethernet ports
  -  GPS receiver
  -  Dead-link detection with modem health checks
  -  Control Room web dashboard
  -  Stats and reports




Transit features:

  -  Proportional bandwidth QoS
  -  Content filtering
  -  Customizable WiFi splash page
Enterprise-class
The AirBox X1n is an enterprise-class router providing broadband Internet connectivity over a cellular network. Designed to serve as a remote network gateway, the AirBox connects IP-based network devices such as laptops, video cameras, DVRs, and M2M hardware. Integrated dual-band WiFi can be configured as a private network or hotspot deployment, and multiple Ethernet ports enable both WAN and LAN cabled connections.
The AirBox provides superior in-vehicle connectivity for fleet applications, excellent bandwidth for wired failover connections, or Internet connectivity in remote locations. The exceptional functionality and flexibility of the AirBox is complemented by maximum connectivity and device reliability. The patented AirBox X1n cellular router includes the WAAV OS which continuously monitors the cellular connection to ensure reliability, and it intelligently handles connection failover, providing the finest cellular broadband experience available.
Expanded capabilities
Reliability extends beyond the multi-level system monitoring, health checks, and modem handling functions to the physical hardware design and components. The AirBox X1n uses embedded industrial-class MiniPCIe hardware to ensure operability in the harshest application environments. External antennas allow installations in hardened locations and enclosures, and the rugged housing protects critical components.
Custom integration
In addition to offering great connectivity and reliability, the AirBox X1n can run customer-specific applications, saving the cost, space, integration, powering, and support of multiple devices. Remote management functions enable over-the-air firmware upgrades, configuration changes, and real-time access to router performance data. The AirBox can be delivered pre-configured for your network, providing plug and play installation and provisioning.