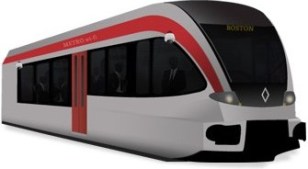 Connectivity for trains
  -  Passenger WiFi
  -  Multiple 4G/5G connections
  -  Proportional bandwidth QoS
  -  Content filtering
  -  GPS fleet management
  -  On-board systems monitoring
  -  System alerts
  -  Splash page
  -  Automated line testing
  -  Cloud management
  -  Usage statistics
WAAV means better WiFi  
WAAV AirBox Cellular Routers are designed for high-capacity vehicles and allow each passenger to have their own Internet connection. The AirBox utilizes multiple cellular Internet connections to handle many users at once. The user only sees a single wireless network name and the balancing is done "behind the scenes."
WAAV offers many features that make for a much better user experience for passengers using WiFi. Here are some of the options that make the difference between the AirBox and other similarly marketed products.
Multiple connections  
WAAV's AirBoxes are offered with either a single cellular connection or multiple cellular connections. Multiple connections can be used to provide additional bandwidth to accommodate many users as well as increase coverage by using multiple carriers. There are two different types of multiple connection solutions known as bonding and load balancing.
Industrial Rail Versions Available  
WAAV offers Rail-approved industrial versions of our products with locking power and M12 Ethernet connectors specifically designed to meet the required ruggedness of the rail industry.
Bonding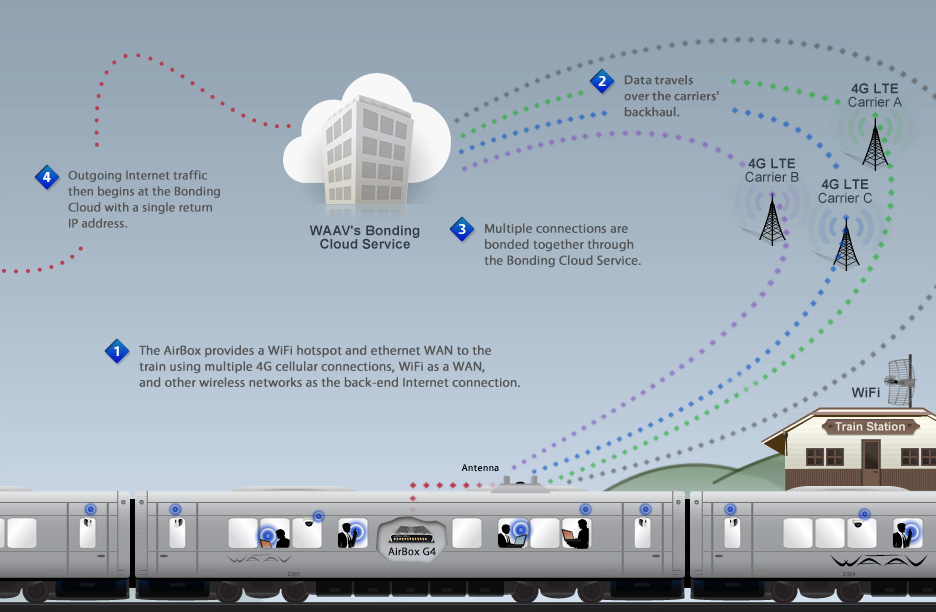 Load balancing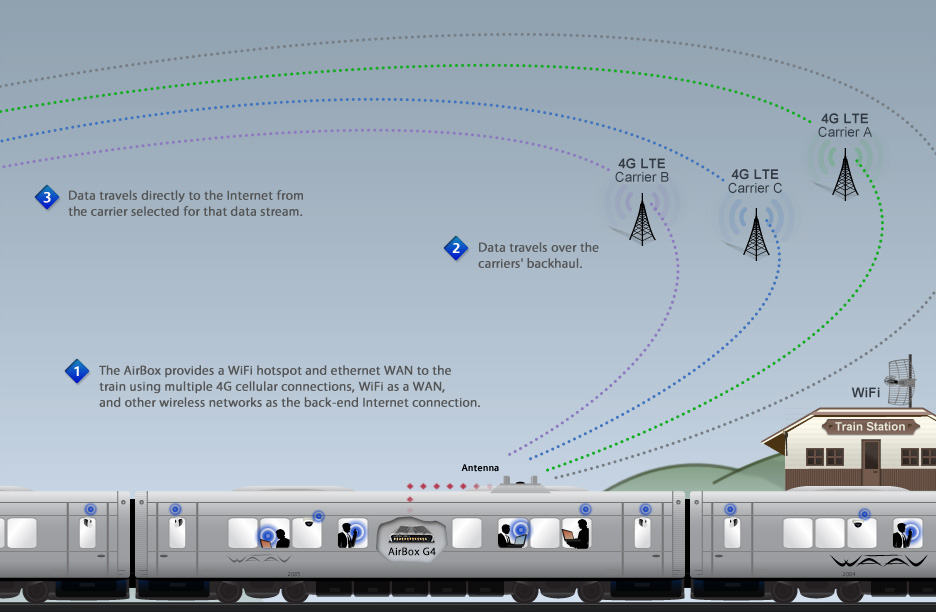 Proportional bandwidth QoS  
Quality of service delivers the same browsing experience for multiple WiFi users. It prevents one user from using too much bandwidth by watching a high resolution video and slowing connections for others. WAAV's unique proportional bandwidth QoS ensures that all WiFi users have a simple, single-sign-on and reliable connection.
Custom splash page  
Customers are greeted with a splash page that will display company logo and tag line. The user will need to accept the terms and conditions of using the connection.
Content filtering  
Keep the train family friendly with content filtering. Optionally filter adult content from the Internet.
WiFi user limit  
Set a limit of the number of users allowed online at one time. Users exceeding this limit will have a splash page to tell them the capacity is full.
Automated line testing (Test mode)  
Map the cellular Internet service along a train right-of-way. When enabled, the AirBox disables WiFi and begins performing constant bandwidth tests every minute. The data exports in .csv file format for graphing and review.
The following data is then logged for further review:
· Bandwidth in Kbps for each connection
· Latitude / Longitude
· Speed in mph
· Latency in milliseconds for each connection
· Cell tower ID
GPS fleet management  
In addition to providing Internet access for passengers, optional GPS fleet management software allows operators to track their vehicles in real-time. Users can view all vehicles at once or zoom in on a specific vehicle and see details such as speed, number of users, etc.
Real-time video surveillance  
Connect on-board cameras to the AirBox and view the video feed in real-time over the existing cellular infrastructure.
On-board systems monitoring  
Take advantage of the broadband connection to the train and monitor on-board systems in real-time. Monitor the temperature from the HVAC unit, check sensors, set alarms, and much more.
Related products
AirBox GT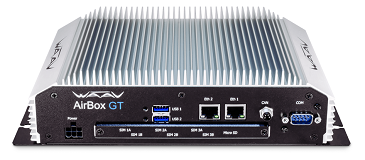 Up to three 4G/5Ge LTE Connection
AirBox GX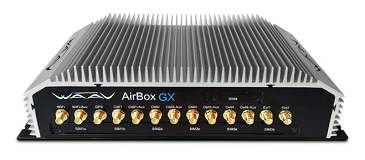 Up to six 4G/5Ge LTE Connections
Control Room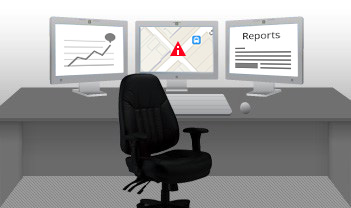 Cloud monitoring & management